This is a story of courage and hope represented by a single Pitbull named Lilly!
Lilly's story of heroism begins with a Boston Police Officer, David Lanteigne.
Lanteigne came across Lilly the Pitbull almost eight years ago when he volunteered at the Animal Rescue League.
David describes Lilly as having a gentle demeanor that was attractive to him.
Lilly welcomed David by pushing against her dog crate door, obviously seeking David's warmth and attention.
David then bonded with Lilly when he took her for a walk.
Apparently, Lilly felt the same way because she jumped into the back of David's truck, ready to go home with him. Luckily for her, she did!
Lanteigne admits that he didn't know a lot about the Pitbull dog breed until he adopted Lilly.
He quickly became aware of the stigmas that follow the breed when they would be out in public together.
"Not only has Lilly been prejudiced against, I've also received dirty looks.
Little do they know, I'm a police officer trying to help people and that I am a good person. To get judged like that is offensive," he states.
David then decided to give Lilly to his mother, Christine Spain since she was often home alone and could benefit from the companionship.
Christine fell in love with Lilly and pampered her with daily walks around the neighborhood, homemade meals, and of course lots of love!
Four years ago, Lilly would return this love to Christine in a life changing way!
Christine and Lilly were enjoying an outing together in Shirley, Massachusetts when suddenly Christine fell unconscious on train tracks.
A freight train was approaching, and Christine's fate seemed to be sealed. Until Lilly courageously lunged into action.
She jumped onto the tracks and helped her owner to safety, putting her own life in danger.
Lilly was hit by the freight train and suffered severe and extensive injuries.
Lilly's front right leg had to be amputated; her left hind leg required surgery to fix it as did her pelvis.
With the help of the veterinarians and surgical team at the Angel Animal Medical Center in Boston, Massachusetts as well as the extensive physical therapy, Lilly recovered having only lost her front right leg.
David expressed that if his mother had the opportunity to do it over that she would gladly walk in front of the barreling train instead of Lilly.
Lilly proved how misjudged Pitbulls are on that fateful day, and helped open eyes to what incredible companions these pups can be!
As a result of her heroism, Lilly has become one of the most photographed, written about and talked about Pitbulls in history!
Today, she is using this well-deserved fame to help fellow canines and humans alike!
Her story reached thousands who responded with words of positivity, support, and love for Lilly who is now a source of inspiration for so many!
Lilly has gone from being judged by her appearance and breed to representing loyalty, hope, and light for an entire group of canines.
That unfortunate day with Christine had led to the development of Lilly's Hero Pitbull Fund which is a non-profit society which raises money to help families of Pitbulls in need, shelter dogs, and dogs that are victims of abuse.
The team behind the operation includes Lilly, Lanteigne, Lindsay Dancy and various forms of social media which come together to help spread the word of the true nature of the Pitbull.
Lilly's Hero Pitbull Fund has raised nearly $100 thousand dollars in the last few years. This money has gone towards helping hundreds of dogs (most of which are Pitbulls).
Lindsay is in charge of the Lilly's Hero Pitbull Fund Facebook page which includes over 400 thousand followers.
She is constantly responding to messages from supporters as well as collaborating with animal control groups and rescue groups around the world.
One of the canines that have been helped by this organization includes Coco who had a spinal injury which caused her to be paralyzed.
Her owner didn't have the money to pay for the necessary wheelchair and physical therapy that Coco needed.
Luckily, Lilly's Hero Pitbull Fund came to the rescue and raised the money. Coco now lives a happy life and has regained mobility in her legs.
Another lucky dog helped by the organization is a dog named Mama and her family. They are a family from Rhode Island that lost their home.
Lilly's fundraiser help raise enough money for the family to find boarding for Mama, get her spayed as well as provide her with shots.
"Without what Lilly did, how she saved David's mom, I wouldn't be able to help other dogs. It has taken over my life.
It's good and bad, and it's hard to escape. But the impact and help that we can offer to shelter dogs and families who need vet care is insane.
We get to help dogs who might have been discarded or euthanized. That means a lot to me," explains Dancy.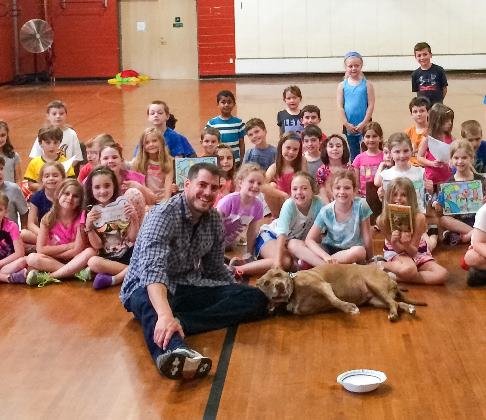 Lilly is now 13 years old and lives with David, his fiancé, and her dogs.
She is kept busy by being the representative of the Lilly's Hero Pitbull Fund, visiting schools, and businesses where she helps show the true nature of the Pitbull with the hope of breaking down stigmas that follow the breed.
Lilly has also recently begun joining David at addiction meetings where she provides comfort and companionship to those in need of inspiration for recovery.
"It's all about advocating for pit bulls.
These are young kids, and we teach them to not believe everything they hear, to get to know the dog, and not just base it off of rumors," says David.