Has your dog been eyeing the sausage on your plate?
Sausages are not only delicious but also quite popular in the United States. We enjoy them during barbeques, ball games, and more.
Since sausages are made of meat, you can expect to find Fido drooling at you while you're enjoying a taste.
So, should you give in to those puppy dog eyes?
This blog post will answer the question, "Can dogs eat sausage?" in detail and go over what types of sausages your puppy can and can't eat.
Let's jump right in!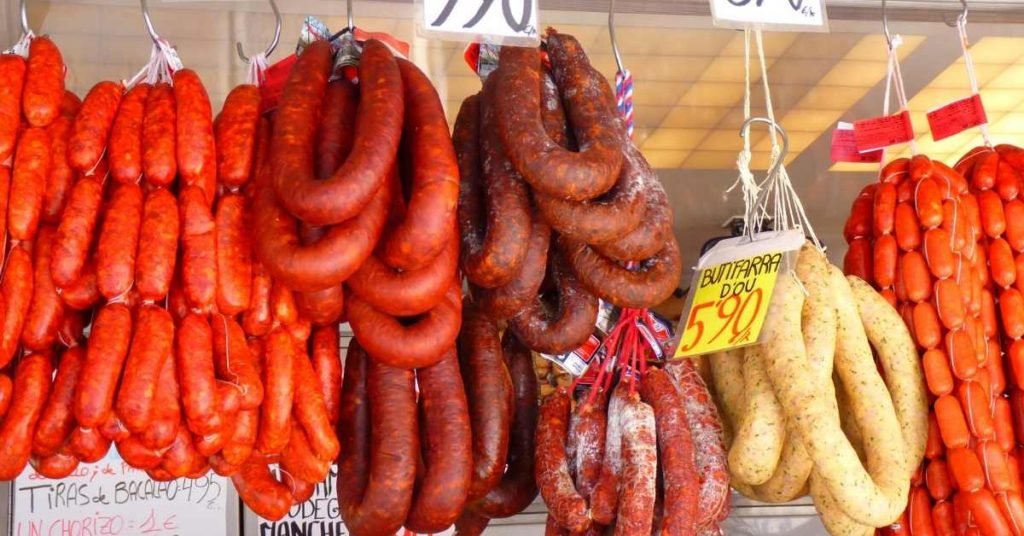 Straight to the Point: Can Dogs Eat Sausage?
In this section of the article, we will go over the different types of sausages and see if they are safe for your puppy to eat.
Take a look.
Can Dogs Eat Pork Sausage?
Not a good idea.
You don't need to worry too much if your dog accidentally got his paws on pork sausage, as it isn't toxic to your pet.
However, pork sausages are not a good treat for your dog for the following reasons:
They contain garlic and onion powder, which isn't safe for your pooch.
They are high in fat and salt content.
They are highly processed and don't retain most of their nutrients.
They may be processed with unsafe seasoning.
They contain artificial colors, flavoring, and preservatives.
So, it is best to keep Fido away from pork sausages.
Can Dogs Eat Beef Sausage?
That may not be the best idea.
Most beef sausages available on the market are highly processed, which means that they contain natural and nature-identical ingredients that may be unsafe for your dog.
You don't need to worry if your dog accidentally had some sausage. Calling your vet may be a good idea.
Here's why beef sausage isn't a good idea for Fido:
Highly processed meat, which may be unsafe for canine consumption.
Artificial preservatives, flavors, etc.
High in sodium content, leading to dehydration.
High in trans fats.
Can Dogs Eat Chicken Sausage?
It's best to keep them away.
Chicken sausages may taste amazing, but they are not best for your or your dog's health! Your dog will probably be fine if he has a little taste, but it is still a good idea to call your vet.
Processed meats are never a good idea for dogs, as they are made for humans consumption–not canine consumption!
Let's take a look at why chicken sausage is a bad idea for dogs:
They contain too much salt, which can cause canon butt and other gastrointestinal issues in dogs.
They contain sulfite preservatives, which may lead to fatal thiamine deficiency.
They are high in fat content, putting your dog at risk of heart issues.
Moving on.
Can Dogs Eat Vegan Sausage?
It's better to keep it away from your dog.
Vegan sausages are vegan junk food. Most vegan meat alternatives contain soy, which is linked to several health issues in dogs.
On top of that, vegan meats may also have garlic, onion, and other seasonings.
Keep sausages are as processed as meat-based sausages. Just because they're plant-based doesn't mean that they're safe for your dog.
So, should you worry if your dog ate vegan sausage?
No. The risks associated with vegan sausages only apply if your dog eats them regularly.
In Summary: Can Dogs Eat Sausage?
If you found this article helpful, feel free to share it with your friends and family to spread the word!
All kinds of sausages are unhealthy for dogs, so it is best to keep them away from your dog. However, a small piece of sausage to smuggle some medication in won't hurt your furry friend!
Sausages are highly processed, which makes them unsafe for your dog.
On top of that, they are made for human consumption, which means they may contain ingredients that are unsafe for dogs.
Here is a good alternative for your dog to enjoy.
Sale