What do you do when a large animal decides to climb into your vehicle for something to eat?
Well, if you ask this man and woman they would probably say "get out of the car and laugh until you cry!"
Luckily, the couple was able to capture the whole ordeal on camera, and the video has now gone viral!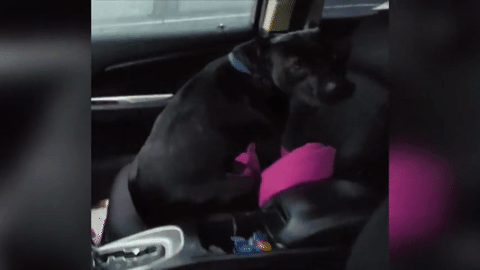 A man and a woman are sitting calmly in the car on a rainy afternoon.
The two soon spot a large Pitbull walking alone in the rain. He wore a collar but lacked the tags to tell the couple who he belonged to.
The dog clearly meant the man and woman no harm; he was simply craving the attention of anyone that would give it to him.
As the video progresses, the man pats the Pitbull on the head and realizes that he is indeed wet from the rain and everything seems to be going smoothly.
That is until the dog is asked a critical question! "Do you want something to eat?" asked the man in the video.
The soaking wet pooch suddenly changes his attitude and begins to respond to the question in the only way he knows how.
He climbs into the couple's car through the open window! The large Pit simply could not control his excitement!
The couple is heard screaming in laughter as they respond by exiting their vehicle, apparently stunned by what the pooch has done.
Once the man and woman are standing outside of their vehicle, the video captures the Pitbull sitting calmly inside, awaiting his "something to eat" and possibly a new home!
[tcb-script]!function(r,u,m,b,l,e){r._Rumble=b,r[b]||(r[b]=function(){(r[b]._=r[b]._||[]).push(arguments);if(r[b]._.length==1){l=u.createElement(m),e=u.getElementsByTagName(m)[0],l.async=1,l.src="https://rumble.com/embedJS/u8q2n"+(arguments[1].video?'.'+arguments[1].video:")+"/?url="+encodeURIComponent(location.href)+"&args="+encodeURIComponent(JSON.stringify([].slice.apply(arguments))),e.parentNode.insertBefore(l,e)}})}(window, document, "script", "Rumble");[/tcb-script][tcb-script]Rumble("play", {"video":"ve0j0″,"div":"rumble_ve0j0″});[/tcb-script]